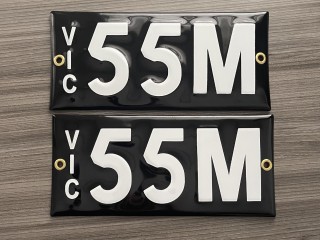 Characters
55M
State
VIC
Asking Price
$18K
---
55.M number plates
Registered in VIC
Format is

N

N

L

3 Characters long
White on Black background
Listed in Quick Sale
Description
Incredible Vic "55.M" for sale.

Secure this investment-grade Victorian Signature plate with repeating 5's now before the market doubles again. This plate is new in box and has never been displayed since purchase from Vicroads many years ago.

This listing will come with the original signature plates in carry case in slimline style with an additional heritage display only set as pictured.

Please send all reasonable offer through to me privately.

Rodney
Last active 2 days ago
---
Other plates by this seller
---